FOR IMMEDIATE RELEASE: March 15th, 2022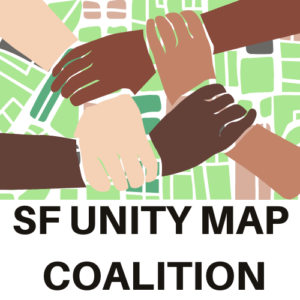 As redistricting begins, Citywide grassroots coalition releases "Community Unity Map" 
Community Unity Map protects communities of interest and preserves SF neighborhoods
Click here for a detailed version of this map
San Francisco – Yesterday, the SF Unity Map Coalition submitted its proposed map for the 2021-2022 local redistricting process to the nine-member San Francisco Redistricting Task Force. The SF Unity Map Coalition is a group of community organizations rooted in diverse communities throughout San Francisco. Unlike many other maps submitted by community members, this map takes a city-wide approach to understand how moving any district line affects all districts, not just one. 
"This map was created through a rigorous process. The Coalition reviewed feedback from over 74 different organizations representing a diverse network of communities all across San Francisco. We also held over 10 meetings for residents and leaders to give feedback on several versions of demonstration maps, before ultimately finalizing Version 1 of the Unity Map." –Matthias Mormino, Chinatown Community Development Center, Director of Policy
Since October 2021, the SF Unity Map Coalition has been convening community organizations and residents from across San Francisco to create a map that is reflective of our diverse, multi-racial city. Historically, redistricting has been used to dilute the power of low-income communities and communities of color. That's why the SF Unity Map Coalition came together to create a map that protects marginalized communities in San Francisco and builds  community power through coordination and collaboration in this redistricting process.
"Our communities came together because we were concerned that marginalized people would be left out of the process once again, and that redistricting would leave the Transgender community with less resources and inadequate representation. By preserving all the cultural districts, including the LGBTQ and Transgender Cultural Districts, we strongly believe that this Community Unity Map gives San Francisco the opportunity to secure resources and representation at City Hall that would allow us to thrive." – Jupiter Peraza, Director of Social Justice & Empowerment Initiatives, Transgender Cultural District
"This isn't just one organization or one district's proposed map. We knew we couldn't take a district-focused approach to this process because how lines are drawn in one district has a domino effect on the rest of the city. That's why we convened conversations across district lines to hear how moving any boundary would impact not just one community of interest or neighborhood or district, but communities across our city." -Emily Lee, Co-Director, SF Rising
"Tenderloin residents want to stay in District 6 because they share common interests, values, and histories with SOMA residents, but we recognize the district is 30% over the ideal population. There have been proposals for the Tenderloin to move to District 3, and we were worried our residents would be forced out of District 6. The rest of the SF Unity Map Coalition worked with us and listened to our concerns, and we are pleased to see that the Community Unity Map makes minimal changes to the Tenderloin by moving the boundary to Geary." – Curtis Bradford, Co-Chair, Tenderloin People's Congress
"With the African-American/Black population at an all time low in San Francisco, I support the Unity Map because it keeps our communities whole in Districts 5, 6, 10, and 11. While some proposed maps divide the community and lessen its power, the Unity Map ensures that the percentage of the Black population in each district stays at current levels or even increases, such as in Districts 6 and 10.  While this is not a final map,  we are committed to working towards even greater unity across the city for future versions." – Cheryl Thornton, District 10 resident
"The Chinese Progressive Association is a part of the SF Unity Map Coalition because we want to secure a voice for low-income and working-class Chinese immigrants, especially tenants in District 3. We call this 'The Community Unity Map,' because we worked hard to consult and engage the broad ecosystem of communities of interest that make San Francisco unique, including community members who are often left out of the conversation." -Tiffany Ng, Civic Engagement Director, Chinese Progressive Association
The SF Unity Map Coalition is excited to share this Community Unity Map Version 1 one month away from the redistricting deadline of April 15.  They urge the Redistricting Task Force to adopt this map and look forward to supporting  the Task Force to continue to work with neighbors and communities across the City for fair representation and racial equity. 
The Unity Map was created using the following guidelines:  
fulfill requirements of the Voting Rights Act and population requirements, 

make minimal changes to district lines while keeping communities of interest together, 

maintain the voice and representation of marginalized communities, 

keep cultural districts and historical neighborhoods whole,  and 

rejoin communities divided in previous redistricting efforts. 
###
The SF Unity Map Coalition is made up of a diverse network of community-based organizations in San Francisco, committed to ensuring that marginalized communities are preserved and strengthened during the 2021-2022 redistricting process. 
Unity Map Version 1 Endorsements as of March 15, 2022
Filipino Cultural Heritage District