SAN FRANCISCO (December 16, 2020) – On Wednesday, December 16th, we hosted "We Define Safety: A Community Response to Police Violence. Alex Vitale, author of "The End of Policing," opened the conversation with a discussion about his book and research. Alex Vitale is the Professor of Sociology and Coordinator of the Policing and Social Justice Project at Brooklyn College and a Visiting Professor at London Southbank University. 
We moved into a rich discussion about alternatives to policing with local racial justice organizers including Jackie Byers (Black Organizing Project), Kevine Boggess (Coleman Advocates for Children & Youth), and Adriana Camarena (Justice for Luis Góngora Pat). These leaders introduced us to concrete examples of the new structures that their campaigns are creating to transform the Bay Area's public safety system for young people, families, and unhoused people.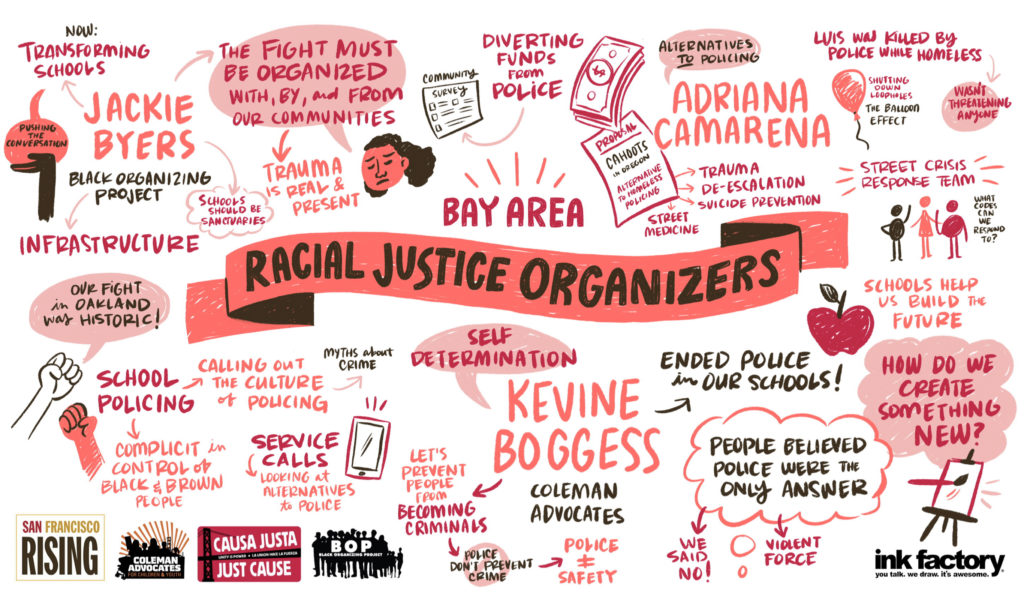 This critical conversation provided an opportunity for the public to engage with these local community organizers about the issues of defunding police, alternatives to policing, and community based solutions related to police violence. It was inspiring and encouraging to hear about the tangible action being taken to make progress in Oakland and San Francisco to define and create public safety that serves us all. If you missed the event, you can watch the recording here.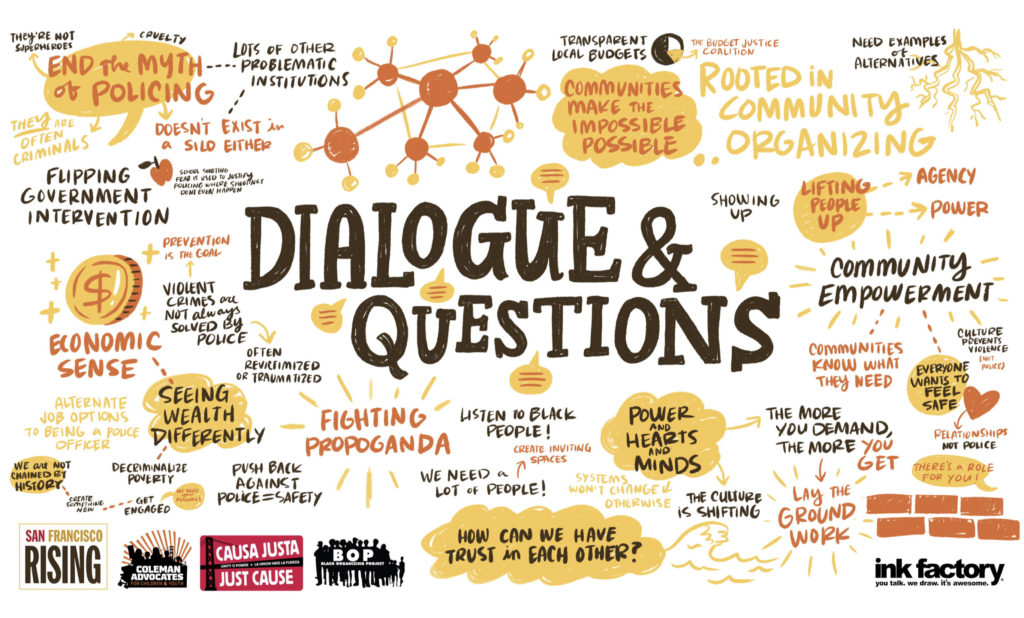 Alison Vellas, an artist from Ink Factory, synthesized our words into images and text to visually represent the key concepts and themes of our conversation.
We deeply appreciate the 130+ attendees who participated and we are excited to use this conversation to keep building a movement that will demand the narrative, policy, and funding changes needed to create new alternatives to policing and real public safety! Please use the following materials shared during the webinar to continue this critical conversation about alternatives to policing and community-based solutions.
Additional resources mentioned by the speakers: