In San Francisco and Across the Bay, Black Lives Matter 
The members and staff of San Francisco Rising have been inspired and deeply moved by the events of the last several months, that have put racial justice and the injustices of state violence front and center in public consciousness.  
In response to the killing of Mike Brown in Ferguson, Black activists, largely young and often new to this kind of political engagement, have taken action and put out calls for solidarity — and thousands upon thousands of people have responded. Across the country, and internationally, people have been using direct action, art, social media and a range of tactics to stop business as usual and to assert a truism too often denied – that "Black Lives Matter."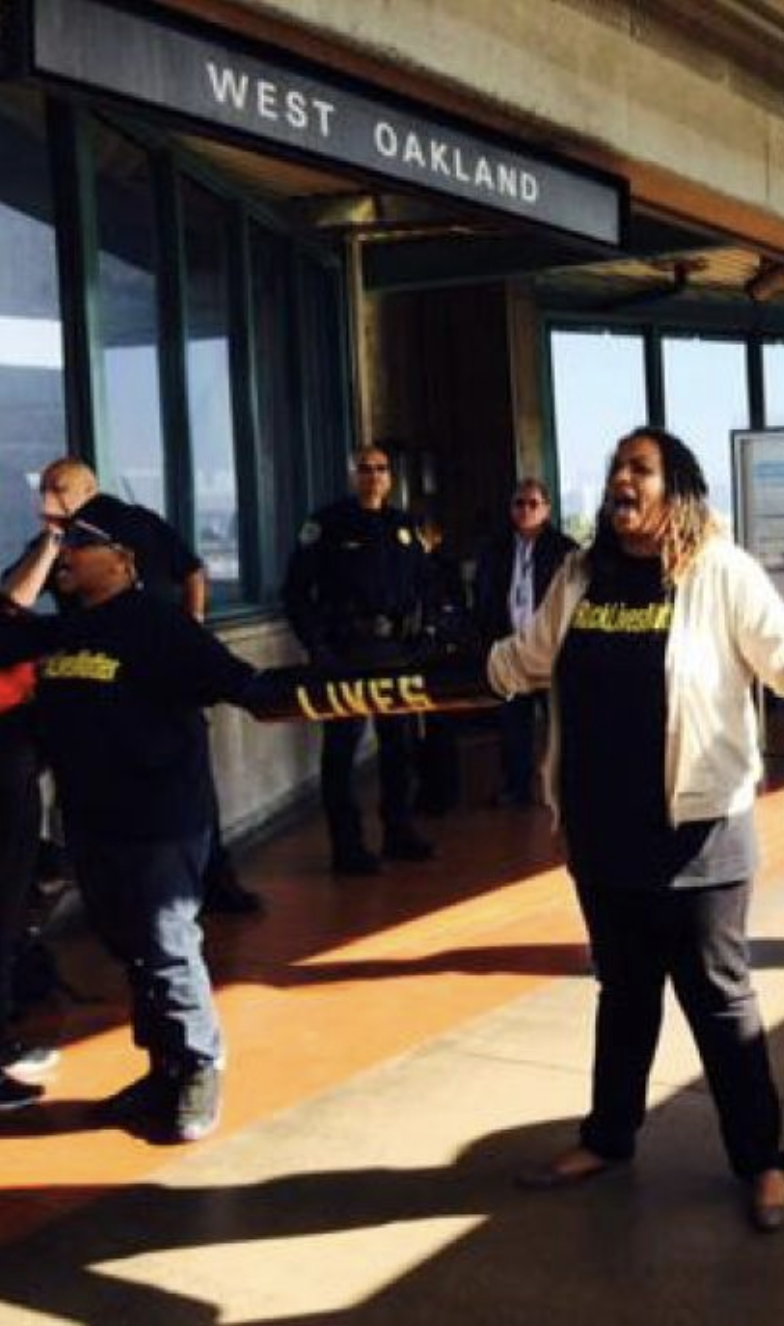 This moment marks the beginning of a new movement for self-determination, led by young Black activists and supported by other people of color and white allies. There are powerful demands emerging about the demilitarization of police forces and the reallocation of funding from law enforcement to housing and social services; and increasingly, these demands are being linked to creating systemic change for racial justice in our public schools, prisons, and beyond.
Here in San Francisco and across the Bay, people have been fighting for justice for the Black lives lost and destroyed by police violence. As an alliance based in working class African-American, Latino, Filipino and Chinese communities, we know that what it will take to end this violence against Black communities, is the same movement necessary for justice for all communities of color and for all people. It's the same movement we need to win justice for the scores of Black and Latino men and women, like Oscar Grant and Alex Nieto, whose lives were taken unjustly by law enforcement officers.
San Francisco Rising is committed to organizing and building power for working class communities of color in San Francisco, both during election season and throughout the year. Our member organizations' commitment to stopping gentrification, achieving environmental and educational justice, and ensuring worker and immigrant rights, is directly connected to the Black Lives Matter movement and realizing justice for Black people and all people.
Please join us in supporting local organizing to end police violence and win racial justice.
Support the #BlackFriday14
On Black Friday, November 28, 2014, members of the #BlackLivesMatter network (including several organizers at SF Rising member organizations), dubbed the Black Friday 14, joined nationwide actions to call for an end to the war on Black people, including the discriminatory pattern of police and vigilante violence that has taken too many Black lives.
Instead of citing and releasing protesters, or charging them with the same minor infraction applied to the thousands of multiracial allies that have blocked busses, trains, and traffic, the Alameda County Deputy District Attorney has capitulated to pressure from the BART Board of Directors to apply a harsher penalty, that of misdemeanor criminal trespass, which requires these 14 protesters to pay tens of thousands of dollars — up to $70,000 — in "restitution" to BART.
There are 3 things you can do right now to help:
Sign the petition of support by

CLICKING HERE

and forward it to your networks.

Take a selfie, tweet it @SFBART and post it on Facebook and/or Instagram with the following message:

"I Stand with the #BlackFriday14…#WhichSideAreYouOn"  (printable template attached to this email)

Get your organization and/or community to take a group photo with the same message.
Join the "Reclaiming King's Legacy: A Jobs & Economy March for the People"
San Francisco Rising will be joining this MLK Day march that reclaims the spirit of King and celebrates his legacy of resistance, organized by the Anti Police-Terrorism Project (APTP). On Monday, January 19th, the march will begin at the plaza outside of Fruitvale BART Station in Oakland at 11 AM — will you join us?
Check out the facebook event for more information.
Black Lives Matter.