(To download a concise word document about this outreach program, click here.)
Last month, SF Rising conducted a 14-day civic engagement program, contacting voters through both a high-volume predictive dialer and traditional door-to-door canvassing. We targeted voters in 50 precincts, largely in San Francisco's southeast neighborhoods where our member organizations do grassroots organizing each day.
All told, SF Rising had conversations with 4,619 voters and found that an overwhelming 80% of them (3,719 voters) would prefer state policy makers to immediately invest $5 billion in education and social services, funds which under the Governor's proposed budget are currently slated to go towards the state's Rainy Day Fund, debt service repayment, and private prison expansion.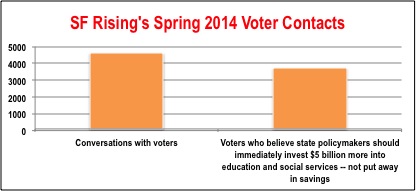 In addition to discussing state budget issues with voters, SF Rising also addressed the crisis of affordability and displacement facing San Francisco's working class communities of color.
Currently, SF Rising is working with the Campaign for a Fair Economy, a coalition of labor and community allies, to raise the SF minimum wage to $15 per hour. Over the course of our outreach program last month, we discovered 2,833 voters agree that raising the minimum wage to $15 per hour will help keep working people in San Francisco. Last week, the Campaign for a Fair Economy reached a compromise agreement with business groups, the Mayor and the entire Board of Supervisors (led by Supervisor Jane Kim) to bring forward a single measure for the November ballot that would raise San Francisco's minimum wage to $15 per hour by 2018 – the strongest minimum wage law in the country!
As part of the San Francisco Anti-Displacement Coalition, an alliance of groups from the tenant and housing rights movement, SF Rising is also working to create policies to stop the massive displacement of working people from San Francisco. In order to discourage the evictions that result from speculators buying and selling apartment buildings in quick succession (a practice known as "flipping" apartments), SF Rising supports a policy that would substantially increase the tax on the sales of apartments if bought and resold within five years. During our voter outreach in May, SF Rising found that 2,677 voters agree that raising taxes on housing speculators will help keep working people in San Francisco.