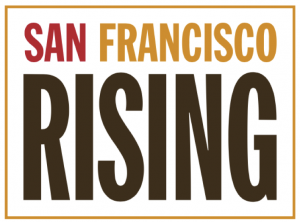 Our 10-Point People's Platform reflects a policy agenda that will challenge the current status quo, and require the city to shift its resources and mindset to improve the lives of poor and working class people of color and immigrant communities in San Francisco.
1.         DEMOCRACY
Political self-determination for all residents! 
Low income and working class people of color have the right and responsibility to participate in politics and in the governance of San Francisco at every level.  Local government should be accountable to all of its residents, not just those with wealth, lobbyists or relationships.
•   Ensure all residents have authentic access to the democratic process in city government and school board.
•   Defend policies and programs that give our communities an opportunity to weigh-in on electoral politics including rank choice voting, district elections, and public financing.
•   Appoint people to key city commissions who represent the needs and interest of poor and working class immigrants and communities of color.
2.         EMPLOYMENT
Good jobs with living wages for all workers!
San Francisco cannot allow corporations and businesses to put profit over people. Efforts need to prioritize immigrant and African American workers who have been systematically pushed out of core industries in the City, and transgender workers who face discrimination from many employers
•  Prioritize the use of city resources and public funds, while creating more revenue, to create new local jobs with livable wages
•  Take immediate action to protect the rights of all workers and stop wage theft, regardless of workers' immigration status.
•  Create an employment plan that guarantees linguistically accessible job trainings and placement of local residents from historically underserved populations, such as women, youth, people of color and immigrants.
•  Encourage and invest in the development of microenterprises and co-operatives.
3.          SANCTUARY
Keep our communities in San Francisco!
The City can no longer ignore the dramatic decrease in numbers of African Americans in San Francisco caused by a combination of city policies, "redevelopment," discrimination in employment practices, etc. It is time to make San Francisco a true sanctuary city that welcomes, retains and defends the rights of African Americans, immigrants, and other marginalized communities that have been systematically attacked by government policies/practices.
•  Maintain and enforce the City's commitment to be a sanctuary city for all immigrants to address the xenophobic policies and practices of state and federal governments.
•  Declare the City's commitment to be a sanctuary city for African Americans to address the displacement of this community.
•  Provide no resources and create or protect policies to halt any support for federal authorities trying to work with our local government agencies that deny immigrants and communities of color right to due process and/or wrongful deportation.
4.         HEALTHCARE
Access to quality healthcare for all communities!
We believe that healthcare is a human right, not a market place commodity only available to those who can afford it.  It is time for San Francisco to find ways of providing quality healthcare to all its residents.
•  Support the development of a Healthcare Services Master Plan that considers the disproportionate environmental and socioeconomic burdens facing low-income communities of color and existing health disparities of communities and ensures that all San Franciscans have quality healthcare.
•  Ensure that all healthcare providers meet their fair share of charity care, Medi-cal  and Medicare patients.
•  Create and protect policies that require employers to provide quality, affordable healthcare coverage to their employees and their families.
 5.          EDUCATION
Quality public education for all!
Youth and adults have the right to quality public education as a means for bettering their lives and communities. San Francisco can no longer ignore the educational disparities among specific groups in San Francisco.
•  Advocate for structural solutions to the state budget crisis that return public school funding to pre-Prop 13 levels, across the state and in San Francisco. 
•  Continue, and expand, city funding to support the deeply under-funded public school system and create/support effective city-school partnerships. 
•  Create and implement programs that ensure all students of color take the courses they need to be eligible to any CSU or UC system. Support creative use of city resources to provide the support systems necessary to ensure Black and Latino students are successful meeting the new, higher expectations. 
6.          COMMUNITY-BASED PLANNING
Planning with the people for the people!
Since city-led land use and zoning policies have systematically displaced our communities, there is a need for the City to stand against government-supported gentrification and to ensure that all communities benefit from the land assets in our neighborhoods.
•  Ensure that agencies that own or exert control over land in our neighborhoods work collaboratively with community-based planning efforts.
•  Support and resource community-based initiatives to convert public lands for public benefits, such as open space and truly affordable housing.
7.         PUBLIC TRANSPORTATION
Affordable and quality public transportation for all!
San Francisco should make it as attractive as possible for residents to meet their daily needs via public transportation. By investing in multiple modes of transportation, the City should make it feasible for people to get out of their cars. The central piece of this commitment should be the development of a public transportation system that provides San Francisco residents with universal access to affordable, reliable and quality transit.
•  Ensure that transportation agencies, particularly their boards, have just representation of individuals who represent the needs of working-class communities of color in San Francisco.
•  Ensure that public transportation resources serve all communities, rather than being used as a mechanism to gentrify low-income communities and communities of color.
•  Block and proposals to fare increases that make public transportation unaffordable to low-income and working class communities.
8.         ENVIRONMENTAL JUSTICE
Healthy and Sustainable neighborhoods for all communities!
Our neighborhoods throughout the southeastern part of the City are impacted by polluted air, land and water. Low-income people, people of color and immigrants are disproportionately affected by the effects of this pollution and its time for the City's government works with residents to change this.
•  Ensure that as federal, state, and municipal funds are allocated to "green" our city and prioritize investments in low-income communities of color.
•  Invest resources in transforming communities, particularly those where working class immigrants and people of color live, that are overburdened with environmental hazards and lacking economic opportunities into healthy, thriving neighborhoods.
•  Guarantee that during development and construction the health and safety of neighboring residents and workers is a priority.
9. PEOPLE'S ECONOMY
An economy to meet our needs!
While San Francisco is home to corporations that make billions of dollars in profit, only a small group of people benefit from this wealth. It is time for the city to put people before profit, for businesses to pay their fair share and for poor and working class people of color and immigrants to help shape the City's economy!
•  Create a fair and progressive tax system that taxes the wealth of the City to ensure adequate funding for public education, good employment, healthcare and crucial social services.
•  Create and implement a "People's Budget" that prioritizes the needs of poor, working-class, immigrants and communities of color in San Francisco.
•  Reinvest and increase government funding for children and youth programs and education.
•  Design a new, participatory and democratic budgeting process that engages people from all across the City and that identifies both community needs and community solutions.
10.   HOUSING
Safe and Affordable Housing for us all!
Gentrification continues to destroy and displace our communities of working class people of color in San Francisco. All communities, regardless of their economic status, have the right to safe and affordable housing close to where they work.
•  Increase government funding to preserve, maintain and build affordable and safe housing.
•  Expand, protect, and enforce the rights of all renters, including those who face eviction due to demolition.
•  Prohibit the demolition and condominium conversions of all rent controlled buildings with 50 or more units
•  Resource alternative models of housing for low-income immigrants and people of color including land ownership, collective ownership, housing co-ops and community land trusts.